Bael Fruit Powder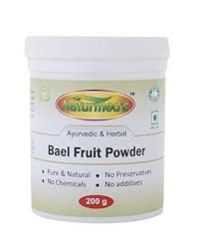 Preferred Buyer From
| | |
| --- | --- |
| Location | Anywhere in India |
Product Details
| | |
| --- | --- |
| Form | Powder |
| Size | 100gms, 200gms, 900gms |
Benefits :


The Bael tree is probably the most valuable therapeutic plants of India.


Constipation - Bael fruit Powder is undoubtedly best of all laxatives. It clears and also tones up the intestines.


Diarrhea and Dysentery - Bael Fruit Powder is the most efficient food treatment for long-term diarrhea as well as dysentery in which there is not any fever. The best results are acquired by means of dried out bael or even its powder.


Respiratory inffections - Bael fruit is useful in treating respiratory problem.


Gastro protection properties - Bael fruit powder has Gastro protection properties.


Control of diabetes - Bael fruit helps in controlling diabetics. It's been discovered that bael might considerably decrease blood urea and also cholesterol level within diabetic creatures.


Cholesterol control - Bael Fruit powder were analyzed because of their cholesterol control. These were great at lowering blood levels of cholesterol similar to contemporary drugs. It manages not only blood cholesterol levels but in addition triglycerides as well as serum and tissue lipid profiles.


Antimicrobial properties - Bael leaves, roots and also fruit extracts have been researched because of their anti-microbial qualities. The extracts demonstrated inhibition of numerous bacterial stresses. Aside from bacteria, bael extracts were likewise great at managing fungal and also infections. The anti-microbial attributes are caused by the existence of biochemical just like cuminaldehyde and also eugenol.


Anti-inflammatory properties - Bael extracts have got anti-inflammatory attributes that really help in cutting histamine caused contractions and also stimulate positive relaxant effect within the swollen regions or even organs.


Constipation - Bael fruit could be used for decreasing bowel problems. The flesh of the fruit is considered to get laxative qualities, and in addition it washes and also tones up the intestines. Taking ripe fruit daily for approximately 2-3 months can easily remove severe and also sub-chronic bowel problems.


Digestion - Since the Bael fruit provides powerful digestive attributes, its frequent use provides rest from any type of digestive soreness. In case there is illness just like diarrhea and also dysenteries it really is discovered very beneficial since it cleans up and also encourages normal intestinal performance. It tones up the digestive system and also alimentary canal to permit appropriate bowl actions. Reap bael fruit is all-natural healthy laxative and also eliminates constipation issues.


Read More...
Looking for "
Bael Fruit Powder

" ?
Pack(s)